Check Out Our Upcoming Classes Below!
Covid-19 Update
Covid-19 UPDATE... We are actively doing in store classes and painting parties. Our events and classes are listed on our Facebook page and here in our events calendar. Please feel free to call the store for additional information. We are practicing Social distancing and sanitizing our store and workshop as much as possible between classes and customers. The City of Columbus currently has a mask mandate in place which requires you to wear a mask in our store. This is scheduled to be in place through February....so please be aware of this when attending classes and parties at Artzy Haven. Thank you. Starting in 2021, NO refunds will be given for non attendance at a class. You will receive a kit to complete at home if you can not attend class OR your payment will be rolled to another class in the studio.
Choose one of these 3 door hangers to create as we kick off the 2021 class schedule in the Artzy Haven Studio on Thursday, Jan. 7th at 6:30pm. Cost is $25 and payment is required when registering either by calling 402-606-4600 or stopping by the store during business hours.
Let's take those winter pictures and make a 2 pages layout! Class will be held Saturday, January 9th @ 10:00 am. We will add some bits and pieces of paper, an embellishment or two and a title. You can go home with 2 pages for your album.
Bring your basic scrapbooking supplies and let's create. No pictures, no problem! You can add pictures later. Cost is $12.00. 
This class is for anyone needing a little help with their Scrapbooking or just wanting a layout to assemble. Call 402-606-4600 to reserve your space today. 
It's a new year! Time for new creations with your Scripture Sisters. Join us Monday, Jan. 11 at 6:30 p.m. Learn new Bible journaling techniques that can be used on scrapbook pages as well. We will be working in Proverbs 11:5 and 1 Corinthians 5:17. Bring basic scrapbook supplies, paintbrushes and watercolor pencils if you have them. Class is $15 and pre-registration is required. Pre-register by Calling 402-606-4600.
Guest instructor Kim will be joining us again at Artzy for another great Mixed Media technique in our journals! Tuesday, January 12th at 5:00 pm is the day! You don't want to miss this one. Reserve your spot today. Masks are required! Please keep watching our Facebook Page and here for details and samples of this great project!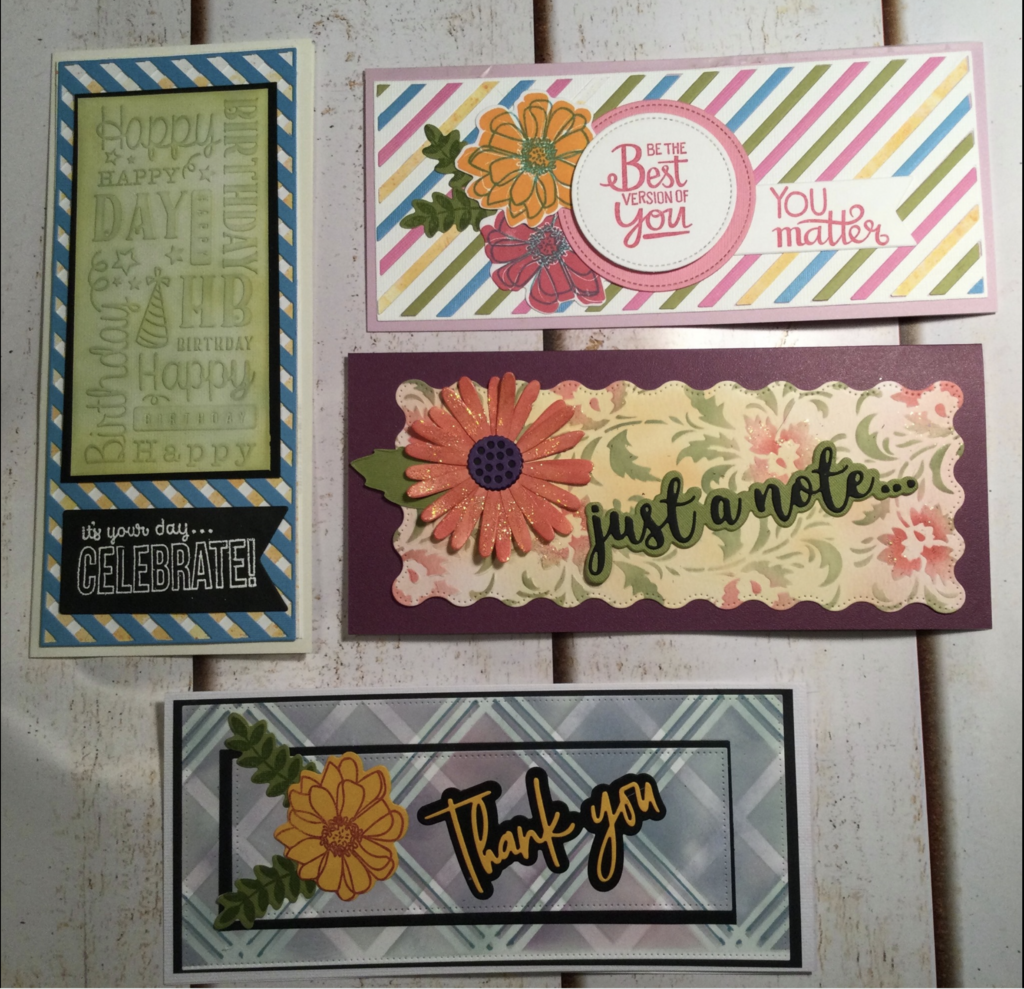 We will be slimming down at card class on Monday, January 18th at 6:30pm with slim line cards for all occasions. Come and create four cards using different slim line dies, embossing and stenciling! The new year is a great time to jump into creating your own cards while learning some new (or polishing up you old) techniques. Cost is $16. Bring your basic supplies of glues, scissors and a paper trimmer as usual but also a stamping platform, bone folder and score board if possible. Registration is GREATLY appreciated by Friday, Jan. 15 to provide time to prepare the kits for class!